Tips for Tight Hips & Hamstrings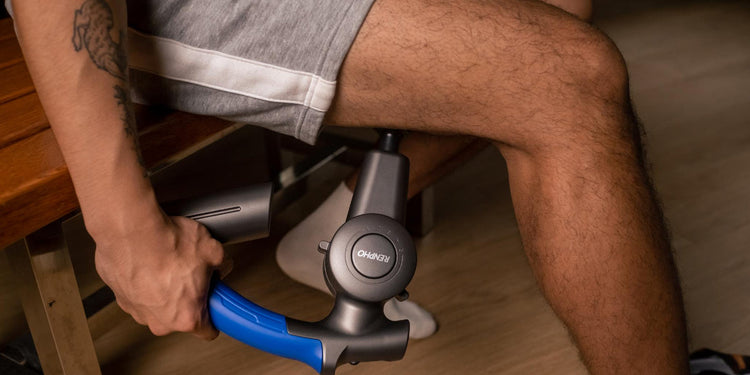 Stay tuned to our latest news
Your hips are responsible for two things: supporting your body weight and aiding in the movement of your upper leg. If you're trying to get fit, working on this part of your body is essential, especially if you spend most of your day sitting.
If you have tight hips, you can experience difficulty in moving your hips. In a worst-case scenario, you might even feel a painful sensation and pain is never a good sign.
Aside from spending most of your days sitting, other possible reasons why you would have tight hips are standing for a long time, sleeping on one side of your body and having a longer leg than the other.
Fortunately, there are exercises you can do to loosen those tight hips and hamstrings of yours. What's more, is that you can do these activities at home without the need to purchase expensive equipment or fitness products.
Continue reading this article to know more about these hip exercises and what benefits they give your body.
What Is Hip Mobility?
If you're active in sports, you would know that your hips make a lot of movements possible or, at the very least, easier to do. It doesn't matter whether you're a swimmer who is about to dive or a football player about to hit the goal. Hips are everything in sports.
And if you have tight hips, your overall performance will be significantly poorer than other players. Moreover, weak hips increase your risk of hip and back injuries, according to Dr. Nick Askey.
In short, hip mobility helps you play better and decreases your chances of getting injuries.
Why Should We Care About Tight Hip Flexors?
You might be wondering what else is there to talk about regarding tight hip flexors. After all, you already know about how it can make it difficult to perform certain movements as well as the possibility of feeling a painful sensation.
However, continuing to sit for a long time or doing repetitive hip-flexion movements like running and cycling can actually make the pain worse over time, says Physical Therapist Kimberly Baptiste-Mbadiwe.
What's more is that the difficulty you experience in moving your hips can also start to affect other areas of your body, such as your legs, glutes and hamstrings.
On the other hand, if you decide to do some exercises for your hips, you will get to enjoy the following benefits:
Better Muscle Performance:

As mentioned before, your hips have an effect on the surrounding muscle groups. If you have weak or tight hips, you can expect to encounter problems in areas, such as your thighs, glutes and core muscles.
But exercising your hips means the surrounding muscle groups are less likely to experience hip-related issues, leading to better overall muscle performance.
Higher Range of Motion:

With strong hip muscles, a lot of your daily activities become easier to do. The stronger they are,

the more you are able to move your joints

with minimal risk of injuries.
And if you actively play sports on a daily or weekly basis, your hip muscles are crucial in helping you perform most, if not all the steps and movements you'll make while participating in a game.
Maintains Posture:

Your iliopsoas muscles, one of the inner muscles in your hips, are

essential in maintaining good posture and core stability

.
Whether you're sitting, standing, walking or running, those muscles are responsible for keeping stability in your lower back, pelvis and hips. Therefore, the stronger they are, the easier it becomes to maintain good posture.
5 Easy Exercises You Can Do at Home to Improve Your Hips
Lunge
When talking about hip exercises, the lunge is one of the most common and most effective activities to stretch out those muscles.
In terms of what you need, you don't need to purchase any fitness or exercise equipment. You only need enough space for you to stretch your body without bumping into any of your household appliances. This part is essential as you wouldn't want anything to possibly fall on you while stretching your muscles.
Now, doing this exercise is simple. While there are variations you can try, such as the lunge with spinal twist and high crescent lunge, the following steps are the basic approach to doing lunges:
Start in a push-up or plank position. Remember to keep your arms and legs extended, and wrists right below your shoulders.

Step your right foot forward, placing it just outside your right wrist. Feel free to start with your left foot if you want.

Afterwards, stretch your hips forward. Ensure your back leg remains straight while doing so.

Hold the position for 10 seconds, then return to step 1 and switch sides.
If you want to stretch your hip muscles even further, you can bring your elbows to the floor. Make sure they are in line with your ankles. However, be mindful of your body. Stop what you're doing if you start feeling pain or discomfort while doing it.
Doing lunges allows you to improve your lower body muscles, such as the glutes and hamstrings, says Personal Trainer Cari Shoemate. Moreover, she also suggests adding weights if you find the exercise easy to do.
2. Figure Four Stretch
Much like the lunges, this exercise is easy to do while also being an effective method of strengthening your hip muscles, specifically the gluteus medius. Physical Therapist and Strength Coach Tom Biggart says that Figure Four Stretch is a great activity to do after a dynamic warm-up or during your post-workout stretches.
In terms of what you need, having a yoga mat to cushion your back is essential and it is the only item you will need to safely do this exercise. Its purpose is to protect your joints, such as the ones on your knees and elbows, from the hard floor surface and ensure your body has a firm grip.
While the Figure Four Stretch also has variations, the basic method to doing this exercise is as follows:
Lie down on your back with your knees bent and your feet flat on the ground.

Cross your left foot over your right knee.

Grab your right leg using both of your hands. Pull your leg towards your body until you feel a stretch in the left side of your hip.

Hold the position for 30 seconds. Ensure you take deep breaths.

Return to step 1 and repeat with your other side.
3. 90/90 Hip Stretch
This exercise is a great way to stretch your gluteus maximus, piriformis and psoas muscles. However, it is worth remembering to do the 90/90 Hip Stretch only after you warmed up your muscles, says Physical Therapist Dawn Lorring.
Once your muscles are ready, here are the steps to performing this stretching exercise:
Sit on the floor with your knees bent and your feet flat on the floor in front of you.

Place both hands behind and shift both knees to the right.

Lay both shins on the floor. Ensure your knees are bent at a 90-degree angle. Your right shin should be in front of you while the left one to the left of your body.

Lean forward at the waist to deepen the stretch.

Hold the position for 30 seconds.

Return to step 1 and shift to the other side.
4. Child's Pose
If you've been attending yoga classes before, it is possible that you know about this exercise. If not, then the Child's Pose aims to stretch your back, hips, thighs and ankles. According to Personal Trainer Lauren Kanski, doing this exercise after you wake up in the morning and before heading to bed can do wonders in keeping your hips healthy.
Doing this exercise is simple. Like the other examples in this article, a yoga mat is recommended to ensure comfort throughout the exercise. Here are the steps to doing the Child's Pose:
Kneel on your yoga mat and sit back on your heels. Keep your arms to your sides.

Slowly bend forward until your stomach touches your thighs. While doing so, try to keep your buttocks against your heels.

Extend your hands out with your palms down on the mat.

Relax your neck and let your forehead rest on the mat.

Hold the position for as long as you want. Remember to close your eyes and breathe.

Afterwards, slowly return to the seated position.
5. Foam Roller Exercises
While the 4 hip exercises tackled in this article are helpful in keeping your hips strong, you might still be missing out on some muscles, says Physical Therapist Jared Beckstrand. Fortunately, going for a myofascial release is an excellent method to reach those muscle groups.
But you're probably wondering how to do it. Beckstrand suggests doing some exercises involving the use of a foam roller. The following are the steps of one exercise you can do:
Sit on the floor and position both knees on top of the foam roller.

Place your arms at your side. Ensure they are aligned with your shoulders.

Lift your upper body using both of your hands.

Move your hips back and forth. Ensure the foam roller rolls along your hamstring muscles.
Beckstrand also suggests placing one leg over the other if you want a more intense activity. However, you would need a bit of upper body strength to do this exercise.
But what if you don't have a foam roller at home? Some alternative items that Beckstrand suggests you use are softballs or baseballs.
If you have a massage gun at home, giving yourself a deep massage is also an effective myofascial release method. According to Orthopaedic Spine and Neck Surgeon Dr. Rahul Shah, it would take a fair bit of trial and error to give yourself a satisfactory deep massage. Play with its settings, specifically the speed and attachments, until you find the right combination.
Doing these 4 exercises, as mentioned before, is key to ensuring you won't have tight hips. Whether you're an athlete or someone who's having mobility issues, feel free to add these activities to your workout routine.

And if you want to reach those deep muscle groups, a massage gun is an excellent tool to loosen those areas. Check out the RENPHO R3 Active Massage Gun today!
---